Dining sites have re-opened.  The Senior Enrichment Center in Reseda is open for lunch service weekdays, registration desk opens at 10:30am and lunch is served from 11:30am – 12:30pm.
If you are over 60 and living in the southwest San Fernando Valley (Reseda, Tarzana, Encino, Canoga Park, Winnetka, Woodland Hills or West Hills) and are in need of delivered meals, please call our Senior Enrichment Center at (818)705-2345.
How big is your appetite for life?
At ONEgeneration Dining Centers we don't just nourish your body, we feed your appetite for good food shared with other great people, just like you! Meals have always been an occasion to come together with good friends to celebrate the big and little moments of life. ONEgeneration's congregate meal sites allow this tradition to continue for persons 60+ in our community. 
We serve healthy lunches in a warm setting, making it easy for mature adults to get together and enjoy friendships.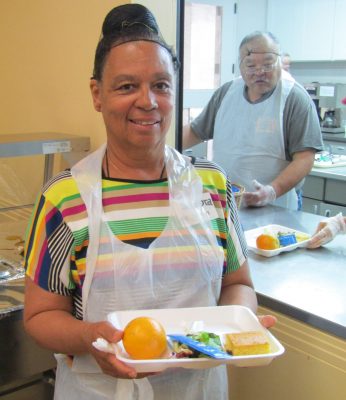 Four locations in the southwest San Fernando Valley.
Daily hot lunch offering a minimum of 1/3 of daily nutrition requirements for mature adults.
Entertainment and different activities at each Dining Center.
Activities that are participant driven and reflect the unique cultural diversity present at each location. (Please contact individual centers for dates and times of special holiday and birthday celebrations, as well as center closing dates for national holidays.)
A recommendation of $3.00 per meal is greatly appreciated (this is a donation-based program that helps to sustain our meal and activity programs).
Please call your local Dining Center for hours of operation and to make reservations!
ONEgeneration Senior Enrichment Center
18255 Victory Boulevard
Reseda, CA 91335
In-person Congregate Meals

Monday – Friday, Registration opens 10:30am
Meals served at 11:30am – 12:30pm
Information: (818) 705-2345
Owensmouth Gardens Dining Center
6300 Owensmouth AvenueWoodland Hills, CA 91367
In-person Congregate Meals
Monday – Friday, Registration opens 10:30am
Meals served 11:30 AM – 12:30 PM
 Information: (818) 708-4758, Please leave a message
Canoga Park Senior Center
7326 Jordan StreetCanoga Park, CA 91304
In-person Congregate MealsMonday – Friday, registration opens 10:30amMeals served 11:30am – 12:30pmInformation: (818) 708-4758, Please leave a message