You are not alone…We can help
ONEgeneration's Case Management Services allow for homebound older adults to maintain their independence and stay at home, preventing or delaying hospitalization and long term placement.
ONEgeneration has a wide range of Case Management services to support older adults living independently in their own homes. When you or someone you know face new challenges that come with aging, assistance is available.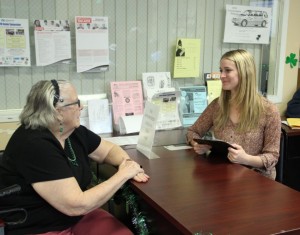 Client Evaluation & Assessment
Individualized Care Plan
Case Monitoring
Careline Calls/ Daily Telephone Reassurance
Emergency Alert Response System
Assistance with in-home bathing/personal care assistance
Grocery Shopping
Daily Hot Meal Delivery
Light Housekeeping/ Heavy duty house cleaning
Financial Assistance/Utility Discount Services
Door to Door Transportation
Information & Referral Services
*Enrollment in Case Management Services is based on assessment, needs, eligibility, and availability.
Harold's Help Desk/Walk-in Case Management
If you are looking for community resources or would like to receive assistance and resources, please contact our center directly at 818.708.6624 or email at info@onegeneration.org. You will receive the information or help that you need in finding the right person to help your needs or those of a loved one.  Harold's Help Desk is generously sponsored by The Edelstein Family Charitable Foundation in efforts to aid low income seniors with personal assistance in finding the services they need in-home and in the community.
Please contact Harold's Help Desk at:
Phone: (818) 708-6624
Assistance and Referral Services Provided
Completion of various forms- Applications
Benefits Enrollment Assistance (CalFresh/Medi-cal)
Affordable Housing Support
Social security benefit information
Veterans Services Referrals
In-Home Supportive Services (IHSS)
Financial Assistance/ Utility Discount Services
Mental Health Counseling
Translation Assistance
Medication Assistance
Health and Wellness Programs and Activities